Blossomtime Weekend
Our annual Blossomtime celebration takes place over the May Day bank holiday weekend  of Sunday 30th April  and Monday 1st May 2017.  Make a note of these dates in your diary now!
These will take place on Saturday 29th April 2017 at Putley Village Hall.  The entries will be available for the public to taste during the Blossomtime weekend events at the hall.
Entry is now open – visit the Cider and Perry Trials page to find out more >>
Harvestime Weekend
This is planned for the weekend of 14th and 15th October – make a note in your diaries.
---
Seven go to Westminster
Seven representatives of The Big Apple attended the All Party Parliamentary Group on Cider reception at the Houses of Parliament on Monday 6th February.
This event was organised by the National Association of Cider Makers and the keynote speaker, Helen Thomas, Managing Director of Westons Cider and Chair of the NACM, emphasised that the cider industry was primarily rurally based and worked hard to uphold the proud tradition and strong reputation of its craft.
She said, "We are often one of the largest employers in our communities and as a result we have always recognised the need for community support, local investment,sponsorship of rural training and employment. When we think of our own future, we also
consider the future needs of those around us."
Helen went on to talk about the current state of the cider and perry industry, its influence in encouraging responsible drinking and the challenges in the years ahead.
Local MP Bill Wiggin was also present and we were able to have an extended conversation with him about government's position on cider and perry.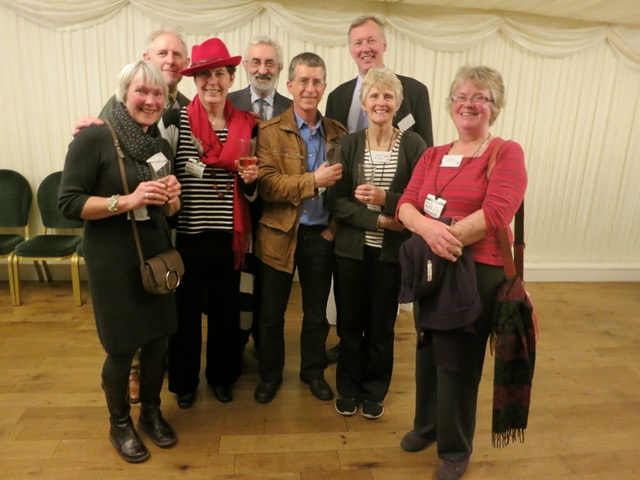 Thank you to The National Association of Cider Makers for arranging this invitation.
---
Marcle Ridge Country
Another good reason to come to the Big Apple is simply to enjoy this wonderful stretch of countryside. Woodlands, soft fruit fields, hopyards and grazing pastures mix with the orchards to create a lovely farming patchwork.  The slopes of the Marcle Ridge offer splendid views across to the Malvern Hills to the east, while Woolhope in the west lies within the Wye Valley Area of Outstanding Natural Beauty.
There is no better way to explore our deeply rural county than through its food and drink and apples and cider are at its heart. Herefordshire has more orchards than any other county and is the source of over half the UK's cider production. For us the Marcle Ridge and the Big Apple are what Herefordshire is all about.  Over the last 25 years, the number of craft food and drink producers of all kinds has truly blossomed in our local communities, providing a special experience for our visitors that is integral to the enjoyment of our rural heritage and landscape.