Update for 2020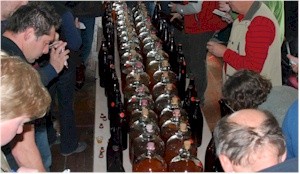 Following the change of the date of the early spring bank holiday from Monday 4th to Friday 8th May, the 2020 Big Apple Cider and Perry Trials will now take place on Saturday 9th May. Other than the new date, arrangements are the same as last year.  The public cider and perry tasting will be on Sunday 10th only.
Closing date for entries this year is 2nd May at 12.00.
Entrants who normally take a sales table should note that for this year the only public day will be Sunday 10th May.  Opening times will be from 11.00am to 6pm.
Click on the button below for details of entry and sales tables.
---
Here's how it works…
Earlier years