Update January 2021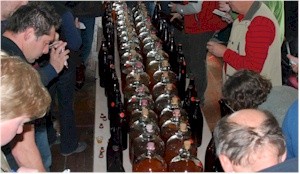 As you will already know, the 2020 Big Apple Cider and Perry Trials were cancelled because of the current Covid-19 restrictions.
The next Big Apple Cider and Perry Trials are now scheduled to take place in May 2021.
This is still provisional as we really don't know what will be happening in five months time but, hopefully, we will be able to run the event so, if you have potential prize-winning cider or perry do keep some back.
We hope to have more details available in February.
---
Here's how it works…
Earlier years
2018 Results>>
2017 Results>>
2016 Results>>
2015 Results >>
2014 Results>>
2013 Results>>
2012 Results>>
2011 Results>>
2010 Results>>
2009 Results>>
2008 Results>>
2007 Results>>
2006 Results>>