Big Apple in 2021
Over the weekend of 9th & 10th October hundreds of people enjoyed the warm, fine weather in and around Much Marcle and most of our special events were fully booked.
We're having a rest now and look forward to a more normal 2022.
---
Cider and Perry Trials took place on July 17th
We held a small, delayed 2021 Cider and Perry Trials at Dragon Orchard in the summer heat!  Report and pictures on the Cider and Perry Trials page.
Blossomtime
We were sorry that we were unable to run our usual Blossomtime events in Putley this year.
The blossom is now over and the fruit is set (apart from those trees that succumbed to the frosts in April).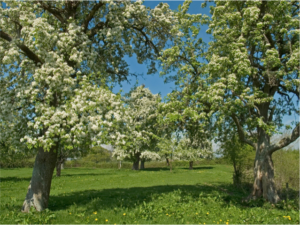 Guided tours of the Westons cider mill are now happening again (advance booking only) and The Scrumpy House restaurant is serving food once more! For details see Westons website.
And, not far away at all is The Nest!
Grab an outside table or pop by and pick up a picnic from their shop to enjoy in the orchards.  https://www.facebook.com/thenestledbury/.
If you fancy a walk, these routes will take you into the countryside, passing through some of our local orchards – take a look!
https://www.westons-cider.co.uk/experience/local-walks/
https://www.cidermuseum.co.uk/uploads/Woolhope_Circular_Walk_HCM_Final_Web.pdf
https://www.herefordshirewt.org/sites/default/files/2019-03/putley_loop_walk.pdf
And finally, what better way to explore the Herefordshire countryside than by bike?  Come Cycling Ledbury publish a 20-mile circular 'Cider Cycling Route'. See, hear and smell the countryside.  Maybe arrange to visit one of our cider producers? The map starts from Ledbury, and copies are available from local bookshops and bike shops. Or click here to buy online: https://www.comecyclingledbury.com/bike-maps.html.

Looking forward, plans are well advanced for a Harvestime event in October.
---
Big Apple is now a Community Benefit Society
The Big Apple Association is registered with the FCA as a Community Benefit Society and is formally "The Big Apple Association Limited", which means we can invite people to become Members and Shareholders of the Society.  To find out more go to About us.