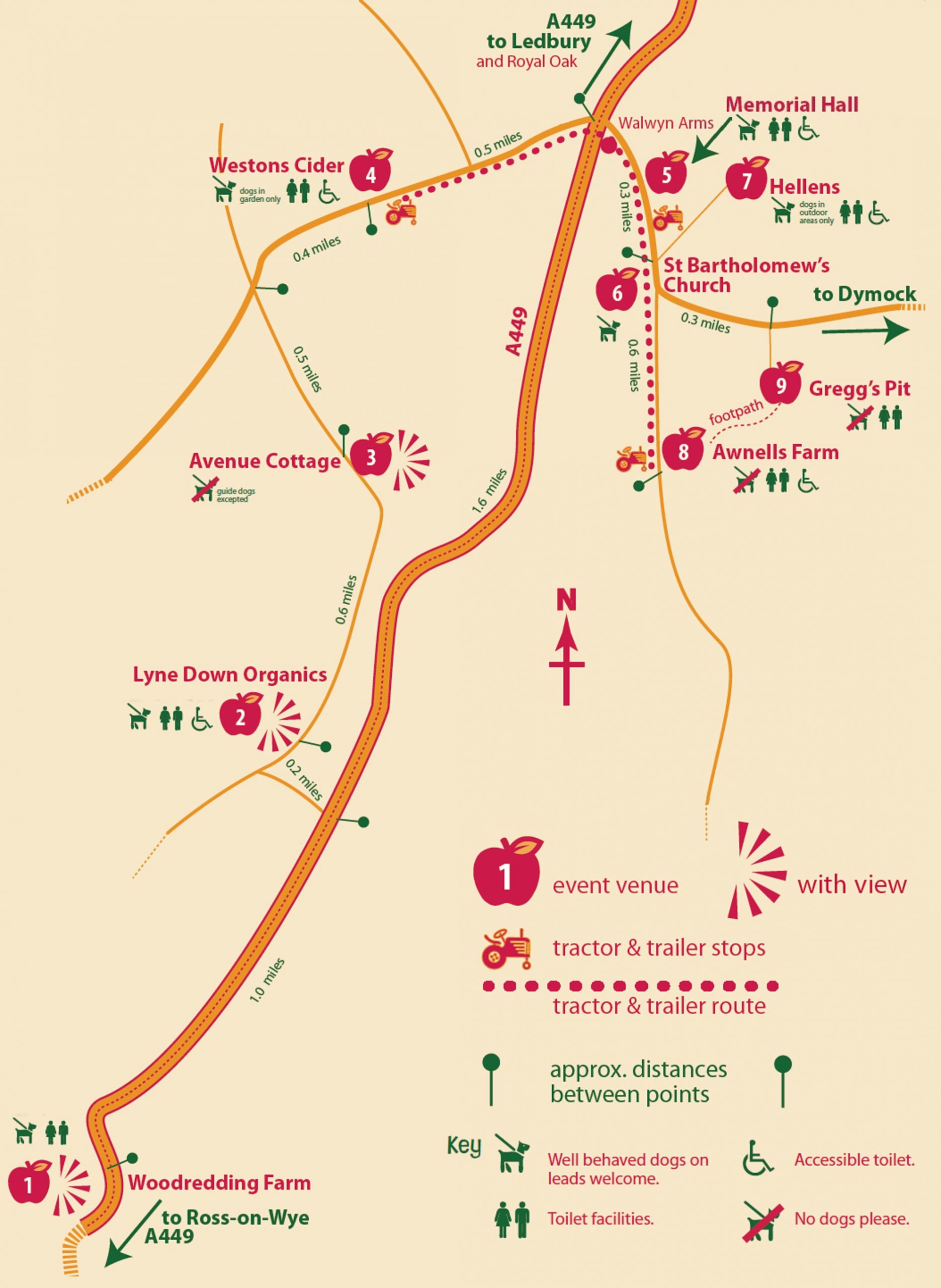 Toilets 
Check the map for toilet locations as not all our venues can offer a full range of toilet facilities as they are not generally open to the public.
Getting Here
Much Marcle lies on the A449 Ledbury to Ross on Wye road.
We are just 15 minutes from the M50 motorway (Junction 2), 2.5 hours from London and 1.25 hours from South Wales and the West Midlands.
Public Transport

Ledbury has a railway station served by GWR and West Midlands Railway.

Direct trains from Birmingham (via Worcester), Hereford and London (via the attractive 'Cotswold Line' from Paddington).
Trainline can help you plan your journey if coming by rail.
Daffodil Bus Service
New for 2023 is the Daffodil Bus service running between Ledbury, Much Marcle, Newent and Ross-on-Wye.  If you are based in one of the towns served by the Daffodil bus why not be 'green' and support this new initiative?
The bus operates a 'request stop' service and will stop anywhere that is safe.  Just let the driver know where you would like to get off – the Memorial Hall, top of Hellens' drive, near the top of the track to Gregg's Pit or (on Sunday only) Westons Cider.
Details and timetable on the Daffodil Line website.
Getting around
Most venues are within walking distance of each other – eg the walk from Hellens to Westons Cider or to Awnells Farm takes around 20 to 30 minutes.
A tractor and trailer service will operate between Westons Cider, Much Marcle Memorial Hall (for Hellens and St Bartholomews Church) and Awnells Farm (for Gregg's Pit).
Woodredding Farm and Avenue Cottage are slightly further away – the walk from Westons to Woodredding Farm via the 'top' Lyne Down road past Avenue Cottage takes about an hour.
Car Parking 
Westons has a large tarmac car park and there is a large field at Hellens for parking. Parking at other venues is more limited. Some field parking at Avenue Cottage and Lyne Down and there's a small car park at the Memorial Hall.   There are only two or three spaces on the road by St Bartholomew's Church so please leave these for people with blue badges. Gregg's Pit has parking in a large field, but the access lane is very narrow – so be prepared to reverse if necessary.  Awnells has parking in the farmyard but do take care as this venue is popular with children.
We would ask you to be considerate to Much Marcle residents and not park in residential streets.
Please think about parking at Hellens or Westons and then walk to the other venues, or use the tractor and trailer service. 
Dogs
Many venues are preparing fruit for processing or food so please bear in mind that dogs may not be allowed in certain areas such as orchards, where fruit may be on the ground awaiting collection, or The Great Barn at Hellens where apple tastings are served.  Please check the map for venues where well-controlled dogs are permitted.
Using SatNav?
Postcodes are provided for the main locations but please be aware that rural postcode areas can be quite large and you could be taken to a point some distance from the actual event – eg HR8 2LY is the postcode for a large area of Much Marcle – look out for the signs on the roadside when you near your destination
Local Information
Much Marcle Website
Pixley and District Website
Putley Website
Woolhope Website
Food
The following local establishments are also serving food.  Please be aware that booking is advisable and sometimes required.  Check carefully as opening times and menus may vary.
In Much Marcle
The Royal Oak

01531 660300

Sat eve last orders for food 8.45pm
Sun evening closed or no food service
Scrumpy House 

01531 660626

Sat open for breakfast from 10 – 11.30am. Open for lunch/dinner from 12noon until last orders at 7pm.
Sun open for breakfast as Sat. Last orders for Sun roast 4pm.
Slip Tavern 

01531 660246

Sunday evening closed or no food service
Walwyn Arms 

01531 660601

Sat eve last orders for food taken at 8pm.
Sun evening closed or no food service.
Nearby
Butchers Arms 

01432 860281

Sunday evening closed or no food service
Crown Inn

01432 860468

Sunday evening closed or no food service
Trumpet Inn
CLOSED UNTIL FURTHER NOTICE
The Nest

01531 670816

Daytime only
Trumpet Corner 

01531 670082

Daytime only
Accommodation
If you need to stay overnight our Accommodation page has links to a number of websites listing local hotels, B&Bs and campsites.