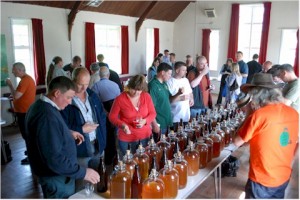 Cider and Perry Trials 2020 Cancelled
Following the Government advice on Coronavirus we regret that have concluded that it will not be possible to conduct the 2020 Cider and Perry trials this year as it seems unlikely that the problem will be resolved by early May.
Please come back to this page next year when we hope that the 2021 Cider and Perry Trials will take place on Saturday 1st May.
General information
Our Cider and Perry Trials will take place on Saturday 9th May 2020. Please read the following before entering!
Competitors must bring their entries to Putley Parish Hall between 9.30am and 11.30am on Saturday 9th May.  
For each entry in a draught class, you will need to bring it in a clean, clear, unmarked, glass 1 gallon (5 litre) demi-john with a removable label (which we will supply) showing your name, the class entered (see Rules for definition of classes), and the product's specific gravity.  The demi-john must have a correctly fitting cork or rubber stopper.   Entries not meeting these requirements will NOT be accepted.  Empty demi-johns will be available to replace the demi-johns that you have brought on a first-come, first-served basis while supplies last.  Alternatively you may reclaim your demi-johns and their remaining contents between 5pm and 6pm on Sunday 10th May at the end of the Blossomtime events in the Parish Hall.

For bottled-fermented/bottle conditioned classes entries must be in two heavyweight punted 75cl glass bottles with correct closures for each class entered, each bottle with a removable label showing your name and class entered.  Typically these will be bottles over 500g in weight (empty) suitable for use with wired corks or crown caps.
You can enter up to a maximum of five classes in the main competition, with one entry and one vote per class. We accept that at the time of submitting an entry the final SG of your samples may not be known and you may change classes on the morning of the trials, provided that you still do not have more than one entry in any class.  The closing date for receipt of entry forms is 12.00 noon on Saturday, 2nd May and no more entries will be accepted after that time.
Judging is carried out by the makers – there is no panel of judges.  Each entrant receives a voting slip for each of the classes they have entered. All the entries in the draught classes will be decanted into numbered flagons to ensure anonymity and each entrant may vote for up to three entries in a class.  The contents of the bottled classes are presented in unmarked glasses to sample.  In the draught classes a maker may bring an assistant to help with judging.
Judging for the bottled classes will commence at 12.30pm for Class P (bottled perry) and 1.00pm for Class C (bottled cider). Judging for the remaining classes will commence at 2.00pm.  The competition ends at 4.30pm and the results will be announced approximately 30 minutes later.
Novices
There are also draught classes for novices, that is, anyone who is new to cider and perry making, having made it for 3 years or less and having not won a prize at any previous Big Apple event. Novices may make up to two entries, one in each novice class. You may not make entries in both Novice and Main classes*.  Absolute novices are welcome.
---
The deadline for entering the Cider and Perry Trials 2020 has now passed.
We cannot accept any further entries – sorry.
---
Sales Tables
All sales tables have now been taken.