Sunday 30th April and Monday 1st May
This was a special springtime opportunity to enjoy the lovely countryside and orchards of the Marcle Ridge in Herefordshire, where local orchards are famous both for their cider fruit and their dessert and culinary fruit.  Several hundred people attended over the two days of the event, despite the rather indifferent UK Spring weather!  This page describes the events and activities of the weekend.
The events took place over two days around Putley Parish Hall, where visitors found an array of traditional ciders and perries from Herefordshire and surrounding counties, together with some of the makers, and, on Sunday only, at Court Farm Aylton, where you could spend time in the cruck barn and amongst the apple trees.
Blossomtime is not just for cider enthusiasts.  Enjoy a walk through the orchards around Putley and Aylton, with or without a guide, then refresh yourselves with excellent homemade food.  Plan your day to include one or two of our special events, including some at alternative nearby locations.

Grand Cider Tasting And Teas
Putley Parish Hall, HR8 2QN
Sunday 30th April: 2pm to 6pm
Monday 1st May: 12noon to 5pm
Cider, perry and apple juice tasting
£2.50 on the door to sample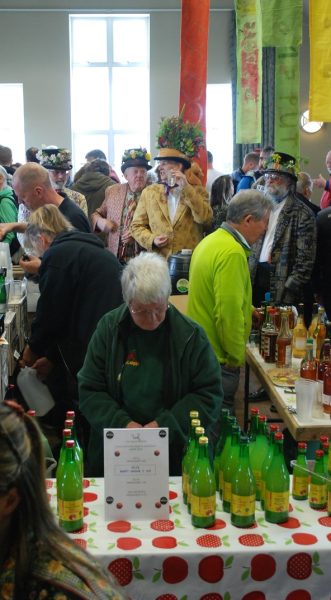 Round and about over the weekend
Trumpet Corner (HR8 2RA) Tea room offering light lunches alongside gallery showcasing work of guest artists (01531 670082). 10am – 4pm  ///clouding.anchorman.school
The Nest, Little Verzons (HR8 2PZ) Relaxed family friendly café, local deli and much more (01531 670816) – plus next door Newent Plant Centre (01531 670121). 9am – 5pm (10am – 4pm Sun).  ///earpiece.celebrate.waters
Westons Cider Mill, Much Marcle (HR8 2NQ). Guided mill tours (charge applies) at 11am, 12.30pm, 2pm, 3.30pm. Cider Shop, Tea room, Children's Play Area. 9am – 5pm (10am-5pm Sun)  ///carver.kiosk.tummy
Nearby pubs
Trumpet Crossroads
Trumpet Inn  ///porch.aimed.unhappily
Woolhope
Butchers Arms (daytime only Sun) ///employers.scooped.october
Crown Inn ///edits.kind.carbonate
Much Marcle
Royal Oak  ///baker.debut.lifters,
Walwyn Arms  ///tweed.majoring.sliders,
Scrumpy House Restaurant    ///carver.kiosk.tummy,
Slip Tavern (daytime only Sun) ///coverage.negotiators.homes.
Payments
While card readers have become much more common, we are still unable to take card payments at some locations. Cash is always acceptable. The nearest 24 hour ATMs are in Ledbury (Tesco and the Co-op).
Locations
For each location there is a What3Words link (prefixed ///).  Click on this to show you the entrance to the location from the public road.
Dogs
Well-behaved dogs on leads are welcome in most places.  Sometimes a walk may be designated as a wildlife walk, in which case no dogs please as these disturb the wildlife.  Also, no dogs (except assistance dogs) will be allowed in Putley Parish Hall.
Map
The map below show the key locations for the weekend. Note the footpath (in red) from Putley Parish Hall to Aylton.