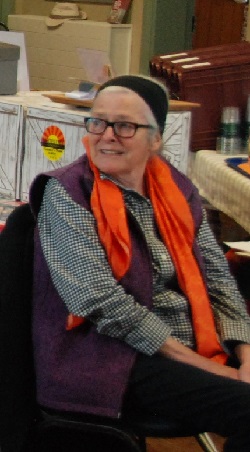 It is with great sadness that we share the news that Jean Nowell passed away on the morning of Sunday, 5th November 2017.
Jean has been at the heart of the Big Apple since its beginnings in 1989.  Early visitors will remember being welcomed to Lyne Down to watch the cider and perrymaking, originally Jean together with her husband Terry, and then going solo after Terry's death.
Jean went on to develop a reputation of excellence for Lyne Down Cider and Perry, winning many awards.  More importantly, she shared her experience, knowledge and enthusiasm with many others, encouraging and supporting some who have gone on to number amongst Herefordshire's best-known and finest cider and perrymakers.
When she moved to a smaller property nearby, she carried on making cider and perry, often with others and at a reduced scale but with no less vigour.  Jean's plan for last Saturday afternoon was to press apples with a friend, but that was not to be.
So many people have fond memories of Jean, and we are especially grateful that she was fully involved with our most recent Harvestime weekend.  She was out and about visiting venues, finding and making friends at every turn and taking enormous pleasure in unveiling her son Max's sculpture of a perry pear at Gregg's Pit, demonstrating both her wicked sense of humour and her deep understanding of place.  She enjoyed the great gift of friendship with those of all generations who shared her passion for craftsmanship and tradition which will be continued by those that she nurtured and inspired.   Jean will be greatly missed but we will continue to enjoy her legacy.
We would love to hear from anyone who would like to share their own memories of Jean's many years of involvement with the Big Apple.
Jean's funeral took place at Hereford Crematorium at 10.30am on Thursday 16th November.