We're showing last year's Harvestime 2021 page in the hope that it will give you some idea about what might be going on in 2022 – come back on 1st September for details of Harvestime 2022 on 8th & 9th October.
---
All of our nine venues were visited by hundreds of visitors to Much Marcle over an unseasonably warm October weekend.
The venues had plenty to offer visitors. There were lots of opportunities to enjoy the local orchards, see, hear and smell cider being made and taste many different varieties of apples, local ciders, perries and apple juices.
Tractor and trailer
A tractor and trailer service, kindly provided by Westons Cider, was running all weekend carrying visitors between six of our venues.
Mobile internet coverage in this part of Herefordshire can be patchy – we advise bringing some cash as it may not always be possible to take card payments.
Expand the sections below to view our venues and events.
10.30am – 5pm.  Low volume, award-winning maker of cider and perry made in the traditional way relying on wild yeast. See how a small-scale cider maker can use both old…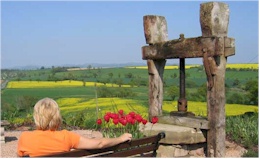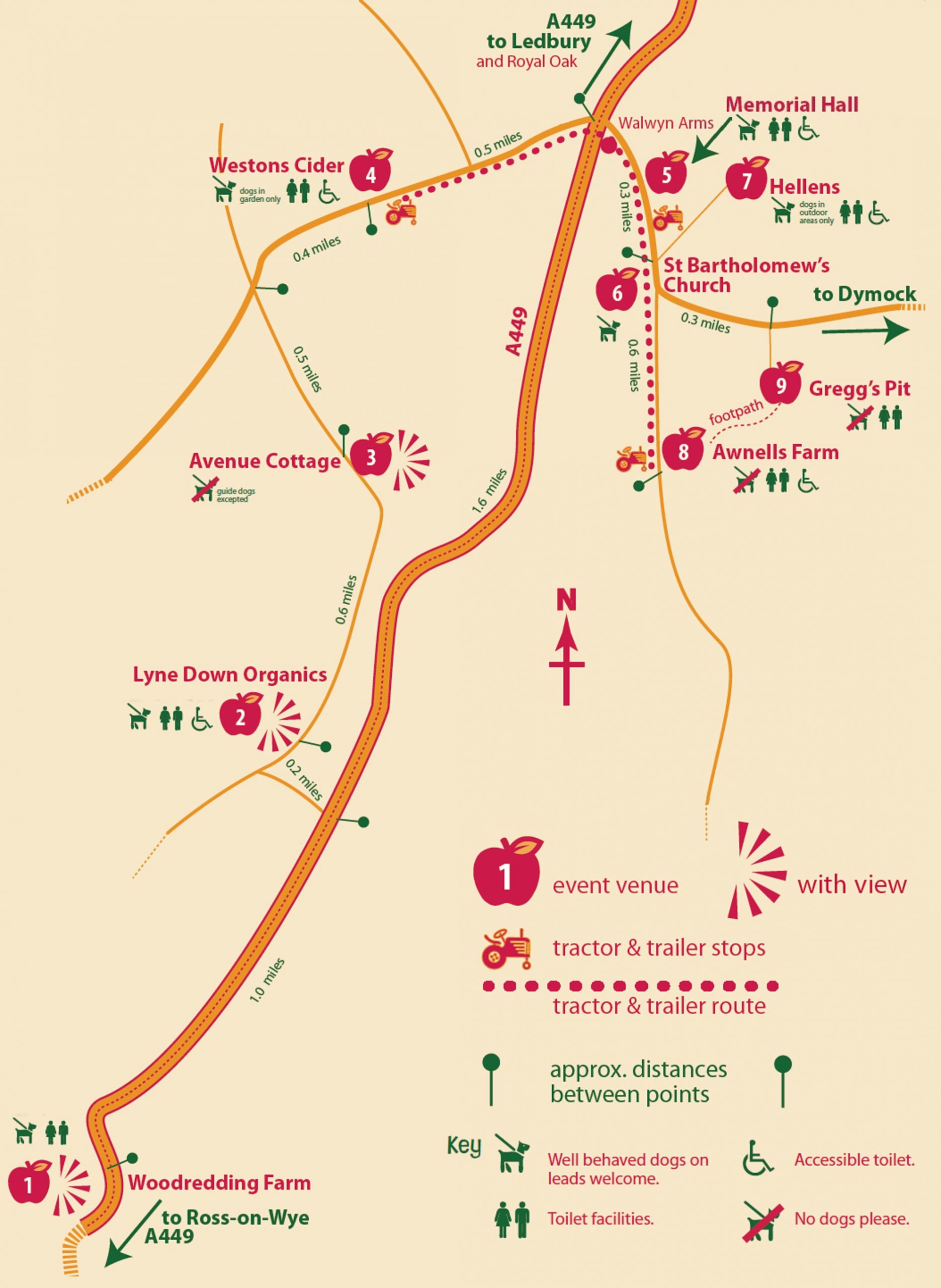 The Harvestime 2021 venues are
1. Woodredding Farm (GR SO640298) (///anthems.basher.hairstyle)
2. Lyne Down Organics (GR SO646312) (HR8 2NT) (///vented.overhaul.redeeming)
3. Avenue Cottage (GR SO649321) (HR8 2NU) (///remarking.device.heats)
4. Westons Cider (GR SO649331)(HR8 2NQ) (///strapped.hacksaw.kidney)
5. Much Marcle Memorial Hall (GR SO658330) (///engine.quietly.soggy)
6. St Bartholomew's Church (GR SO657327) (///blaze.develops.masts)
7. Hellens (GR SO661332) (///copies.quote.regularly)
8. Awnells Farm (GR SO658319) (HR8 2NW) (///fork.overheard.hardly)
9. Gregg's Pit (GR SO662323) (HR8 2NL) (///plotting.mainframe.twinge)
Grid references are accurate to 100m. Postcodes are provided where navigation apps will take you near to the venue – typically within 200m. We have omitted postcodes where they do not take you close to the venue or provide misleading directions.
The /// links are to 'what3words' and show the venue's entrance on the road.
Other locations open for business over the weekend
The Nest at Little Verzons HR8 2PZ Sat 9am to 5pm, Sun 10am to 4pm (off the map)
Trumpet Corner Tea Room, Trumpet Crossroads, Ledbury HR8 2RA (Sat only 10am – 4pm)
Google Map of Big Apple Harvestime
Toilets 
Check the map for toilet locations as not all our venues can offer a full range of toilet facilities as they are not generally open to the public.
Getting Here
Much Marcle lies on the A449 Ledbury to Ross on Wye road.
We are just 15 minutes from the M50 motorway (Junction 2), 2.5 hours from London and 1.25 hours from South Wales and the West Midlands.
Getting around
Most venues are within walking distance of each other – eg the walk from Hellens to Westons Cider or to Awnells Farm takes around 20 to 30 minutes. A tractor and trailer service will operate between Westons Cider, Much Marcle Memorial Hall (for Hellens and St Bartholomews Church) and Awnells Farm (for Gregg's Pit).  Woodredding Farm and Avenue Cottage are slightly further away – the walk from Westons to Woodredding Farm via the 'top' road past Avenue Cottage takes about an hour.
Car Parking 
Westons has a large tarmac car park and there is a large field at Hellens for parking. Parking at other venues is more limited. Some field parking at Avenue Cottage and Lyne Down and there's a small car park at the Memorial Hall.   There are only two or three spaces on the road by St Bartholomew's Church so please leave these for people with blue badges. Gregg's Pit has parking in a large field, but the access lane is very narrow – so be prepared to reverse if necessary.  Awnells has parking in the farmyard but do take care as this venue is popular with children.
We would ask you to be considerate to Much Marcle residents and not park in residential streets.
Please think about parking at Hellens or Westons and then walk to the other venues, or use the tractor and trailer service. 
Dogs
Many venues are preparing fruit for processing or food so please bear in mind that dogs may not be allowed in certain areas such as orchards, where fruit may be on the ground awaiting collection, or The Great Barn at Hellens where apple tastings are served.  Please check the map for venues where well-controlled dogs are permitted.
Public Transport
Ledbury has a railway station served by West Midlands Railway and GWR with direct trains from Birmingham (via Worcester), Hereford and London (via the attractive 'Cotswold Line' from Paddington).
There are no weekend buses to Much Marcle from Ledbury so the only option apart from cycling from Ledbury at the weekend are taxis – there is no taxi rank so you will need to phone well in advance for one.  Google "Ledbury Taxis" for a current list.
You may be able to take a bus from other Herefordshire locations but the options are very limited.  See https://bustimes.org.uk/localities/E0053319 for possibilities.
Using SatNav?
Postcodes are provided for the main locations but please be aware that rural postcode areas can be quite large and you could be taken to a point some distance from the actual event – eg HR8 2LY is the postcode for a large area of Much Marcle – look out for the signs on the roadside when you near your destination
Local Information
Much Marcle Website
Pixley and District Website
Putley Website
Woolhope Website
Accommodation
Look on the Accommodation page for details of accommodation websites and local camping and caravan sites.
These details are provided for information only and The Big Apple Association does not make any particular recommendation.

General website
Find lots of places to stay, eat and enjoy in Herefordshire on www.eatsleepliveherefordshire.co.uk 
Bed & Breakfast and Hotel Websites
For details of accommodation in the area check out the following websites:
Much Marcle:
Much Marcle website: http://muchmarcle.net/
Ledbury:
Ledbury Bed and Breakfast Info: ledburybedandbreakfast.info
Forest of Dean District info: www.royalforestofdean.info/accommodation/ledbury.shtml
TripAdvisor: www.tripadvisor.co.uk/Hotels-g186303-Ledbury_Herefordshire_England-Hotels.html

Cycling Specialist Accommodation Site
http://www.comecyclingledbury.com
Local Campsites
If you run a campsite within 10 miles of the Much Marcle-Putley area and would like to appear please let us have details via the contact form
1. Cwtch Cabins & Camping
Much Marcle
Ledbury
Herefordshire
HR8 2NN
Tel: 07981 191961
3 bookable cabins plus 3 bookable shepherd huts plus 14 bookable tent pitches. Only a few minutes walk to many Harvestime locations.  Please see website for details.
Web: www.cwtchcabins.com
Email: hello@cwtchcabins.com
2. Yew Tree Farm
Aylton
Ledbury,
Herefordshire,
HR8 2RQ
Caravans/motorhomes
Email: yewtreefarm@aylton.net
Web: www.yewtreefarm.uk
Approx 10 mins walking distance from Putley Parish Hall.
3.  Hereford Camping and Caravanning Club Site
The Millpond
Little Tarrington
Hereford
Herefordshire
HR1 4JA
Bill and Lynn Sayer
Tel: 01432 890243 ( No calls after 8pm please)
Web: CCC Site listing
Owned by them but operated as a Camping and Caravanning Club Site – non-members welcome
4. The Trumpet Inn
Ledbury Road
Trumpet
Ledbury
Herefordshire
HR8 2RA
Tel: 01531 670277
The Trumpet Inn has 10 bookable caravan pitches
Group Bookings welcome – please email for details
E-mail: trumpet@wadworth.co.uk
Web: www.trumpetinnledbury.co.uk
5. Royal Oak Inn
Much Marcle
Ledbury, Herefordshire, HR8 2ND
Caravans/motorhomes
Tel: 01531 660300
Email: enq@royal-oak-inn.com
Web:www.royal-oak-inn.com
6. Ledbury – Woodside Lodges Country Park
Camping and Caravanning Club Certificated Site
Falcon Lane
Ledbury
Herefordshire
HR8 2JN
Tel: 01531 670269
Fax: 05061 153922
Email: info@woodsidelodges.co.uk
Website: www.woodsidelodges.co.uk
Site Owner/s: Mr & Mrs K C Davies
7. Caravan Club Site
Lucksall
Mordiford
Herefordshire
HR1 4LP
Tel: 01432 870213
Web: www.lucksallpark.co.uk
Site Owner/s: The Williams Family
Campervan Hire
Wanderlust Camper Co
2 Dowles Cottages
Dymock
Postcode: GL18 2AF
Tel:  08453 889958
Email: info@wanderlustcamperco.com
Website: www.wanderlustcamperco.com