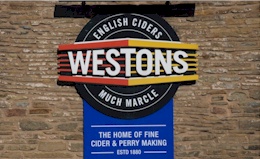 Much Marcle, HR8 2NQ (Grid ref 648331)
10am – 5pm
Guided tours (£10.00/£4) 11am, 12.30pm, 2pm, 3.30pm.
Play park (10am-4pm).
Orchard tearoom serving apple teas and other apple delights
Special events
Saturday 14th
10.30pm.  Leominster Morris.
Sunday 15th
10.30am Friends of the Dymock Poets. A ramble around Much Marcle, with poetry, prose and conversation starts at Westons. After coffee, head for the orchards, including Awnells and Gregg's Pit (refreshments available). Return tractor ride available. Pay on day for refreshments.
Visit Westons Website for more information (18+ restriction)
Toilet facilities, ample car parking.
Tractor and Trailer service starts at Westons Car Park.