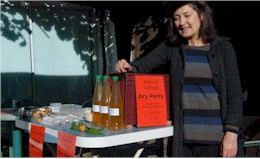 Much Marcle,  HR8 2NU (Grid ref 649321)
11am – 5pm
Cottage perrymaking, fruit pressing, single variety perry for sale.  An abundance of fruit and nut trees and hedges of edible berries in our replanted orchards.
Bring a picnic to our meadow overlooking the panoramic view to the Malvern Hills and beyond.
Parking in a field
Special events
Saturday 14th and Sunday 15th October
12noon and 2.30pm Our edible hedges. Guided tours of young fruit and nut groves and edible hedges which re-establish our field pattern.
Saturday 14th only
3.30pm High altitude cider tasting Pop-up tutored tasting with a view, with Ciderologist Gabe Cook.