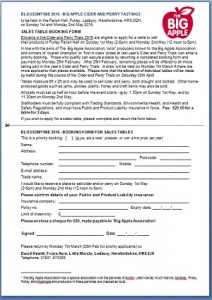 Use the form below to book a sales table at Blossomtime – 10th May, or download and print a paper copy and return it to us with a cheque for payment.
Because of the change to the 2020 May Bank Holiday, Blossomtime this year is only on Sunday May 10th.
Please note the following.
You must enter the Big Apple Cider and Perry Trials for 2020.
You must be fully compliant with trading standards and have appropriate product liability insurance.
Priority Booking
This option is available to people who either:
(a) are local to The Big Apple Association – ie are associated with one or more of the seven parishes of The Marcle Ridge.  These are Much Marcle, Little Marcle, Woolhope, Aylton, Pixley, Putley and Munsley; or
(b) have won a first prize in any of the classes in last year's Cider and Perry Trials.
Priority bookings must be received by Monday 2nd March.  We will check eligibility requirements.
Other bookings should be received by Monday 9th March.
Allocation of requests
Eight tables are available.  If more than eight priority bookings have been received by 2nd March, then the tables will be allocated by ballot.  If there are tables available after priority bookings have closed the remainder will be allocated on 9th March and, if more than eight have been applied for, a ballot will be held and unsuccessful applicants will be refunded their fee.  If any tables remain unallocated after 9th March, they will be allocated on a first-come, first served basis.
Tables cost £15 for the day.
Stallholder Booking Form
&nbsp
Note that after clicking Submit there may be a delay while the form is checked, your e-mail address validated and contact established with PayPal. This can take 30 seconds or more so please be patient.
Tables measure approximately 6ft x 2ft and may be used to sell cider and perry, both draught and bottled.  Other home-produced goods such as jams, pickles, plants, honey and craft items may also be sold.
All stalls must set up half an hour before the event starts – ie by 10.30pm on Sunday 10th May.