Blossomtime 2021 – A Springtime Celebration
We're sorry that we are unable to run our usual Blossomtime events in Putley this year, so we've put together a few ways in which you can still enjoy the blossom at any time in our corner of Herefordshire.  As the blossom goes on opening, we'll try to keep you up to date with new opportunities.  Pop back here from time to time, or see our Facebook page
https://www.facebook.com/bigappleherefordshire/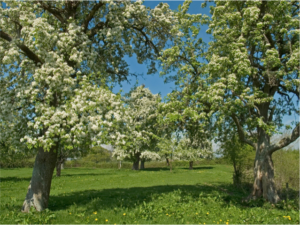 The blossom is looking at its best on the perry pear trees in the orchard at Gregg's Pit Cider & Perry, Much Marcle! From Thursday to Monday, between 10.30 and 18.00, you can arrange a bespoke tasting or a guided orchard tour to 'walk, talk and taste', 'meet the trees and makers' and 'drink the view'.  BYO picnic area in the orchards (NB: no dogs please).  Prior appointment only, please phone or text 07473-900840.  Directions on website www.greggs-pit.co.uk and Instagram @greggspit.
The avenue at nearby Hellens Manor is famous for its perry pears.  The gardens at Hellens are open to visit on Wednesdays, Sundays and Bank Holidays from 10.30 to 5.00pm, with free admission to the grounds, gardens and tearoom.  See https://www.facebook.com/manorhellens/ for regular updates.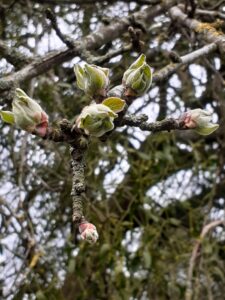 Early signs of blossom are appearing in the orchards surrounding Westons Cider, also in Much Marcle (HR8 2NQ).   Open seven days a week, from 9am to 5pm (10am to 5pm at weekends).  Enjoy a walk through the orchards, following the nature walk developed by Herefordshire Wildlife Trust (see below).  The Scrumpy House restaurant has outside dining pods and take-aways, or take home some cider from the onsite shop.  Further information www.westons-cider.co.uk. Booking advisable. Contact 01531 660108 or visit@westons-cider.co.uk.  Guided tours of the cider mill will be starting again after 17th May.
And, not far away at all, the blossom is out at The Nest!  Grab an outside table or pop by and pick up a picnic from their shop to enjoy in the orchards.  https://www.facebook.com/thenestledbury/.
If you fancy a walk, these routes will take you into the countryside, passing through some of our local orchards – take a look!
https://www.westons-cider.co.uk/experience/local-walks/
https://www.cidermuseum.co.uk/uploads/Woolhope_Circular_Walk_HCM_Final_Web.pdf
https://www.herefordshirewt.org/sites/default/files/2019-03/putley_loop_walk.pdf
And finally, what better way to explore the Herefordshire countryside than by bike?  Come Cycling Ledbury publish a 20-mile circular 'Cider Cycling Route'. See, hear and smell the countryside.  Maybe arrange to visit one of our cider producers? The map starts from Ledbury, and copies are available from local bookshops and bike shops. Or click here to buy online: https://www.comecyclingledbury.com/bike-maps.html.