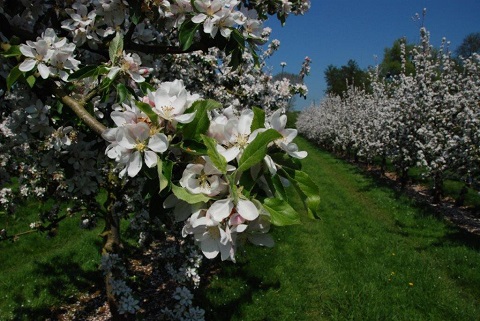 Blossomtime 2020 – A Springtime Celebration
Update September
As we're sure you are aware, the onset of the Covid-19 pandemic lead to the cancellation of Blossomtime 2020.
We look forward to seeing you in what we hope will be a more normal May 2021.  In the meantime here is some information that may be useful.
---
Information from cider, perry and juice makers who had been looking forward to selling at Blossomtime in Putley on Sunday 10th May 2020
Artistraw:
Applying for a premises licence so no outlets at the moment but hoping to be able to sell soon.
Website: http://artistraw.co.uk/
Bartestree Cider Co.:
Currently selling through Bartestree Village Stores.  Applying for own premises licence.
Website: http://www.bartestreecider.co.uk/
Gregg's Pit:
Local customers can collect orders from 1030-1800 on Thursdays through to Mondays inclusive.  Free delivery offered for orders within 10 mile radius of Ledbury on Tuesdays and Saturdays.
Phone: 07473-900840 or 01531-660687
Website:  http://www.greggs-pit.co.uk/
Halfpenny Green Cider Company:
Based near Kinver, West Midlands, and selling online through website and Facebook.
Website: https://www.halfpennygreencider.co.uk/
Jus Apple Juice:
Range of single variety Herefordshire apple juices available (750ml and 250ml bottles).  Also providing a mail order service.  Please email or ring for details.
Phone: 01531 670749
Website: http://www.jusapples.co.uk
Once Upon a Tree:
Offering online sales.
Free UK mainland delivery for orders over £50 (following discount).  Or local customers may click and collect from the Haygrove offices outside Ledbury.  Local retailers, including The Nest and Hay Wines, also offering click and collect, and local delivery services too.
Website: www.onceuponatree.co.uk
Pope's Perry:
Available online through Angus Macdonald of Malvern Cellar, who delivers within 7 miles of Malvern.
Phone: 07970 123 808
Email: angus@malverncellar.com
Website: www.malverncellar.com
Woodredding Cider:
Open for collection of bottles and Bag in Box by prior arrangement (for those able to get there).  Please contact by telephone or email.
Phone: 01531 660257
Email: brian@woodredding.co.uk
Website: https://woodreddingcider.weebly.com/
Yew Tree Farm Perry:
Taking orders and payments over the phone for 2019 farmhouse bottled perry.  Payments can also be made contactless on collection from the farm gate at an agreed time.
Phone: 07968 160168
Website: http://www.yewtreefarm.uk/
All details correct at 4th May 2020.
We hope that everything will be back to normal for May 2021 and we look forward to seeing you then.
At the moment, the Harvestime celebration on the 10th & 11th October is still on the schedule.
---
Blossomwatch Live!
During the lockdown some Big Apple members have been out in their gardens and orchards taking photographs of blossom developing on the same tree each day or so over the past two weeks – it keeps us sane! We have had almost 200 photographs so far and will be displaying them here over the next few weeks.
Some sequences we've already done.
NB the autoplay feature as been switched off by request.  You can step through each one using the navigation arrows that will appear if you hover over the image with a mouse or swiping on a touch-screen.
1.  Michelin – cider apple.
 2. Stark's Earliest – a very early dessert apple, which ripens in July
3.  An early pear – unknown variety.  Large & juicy, ripens in early September.
4.  Young Bramley 20 – cooking apple
5.  Young Gala – dessert apple
6.  Harry Masters Jersey – cider apple
7.  A different Harry Masters Jersey – cider apple
8.  Herefordshire Russett – dessert apple
9. Bramley Seeding – cooking apple
10. Cox's Orange Pippin -classic English dessert apple
11. Dabinett – cider apple
12 King's Acre Pippin  – late dessert apple
More to come in the next few days…