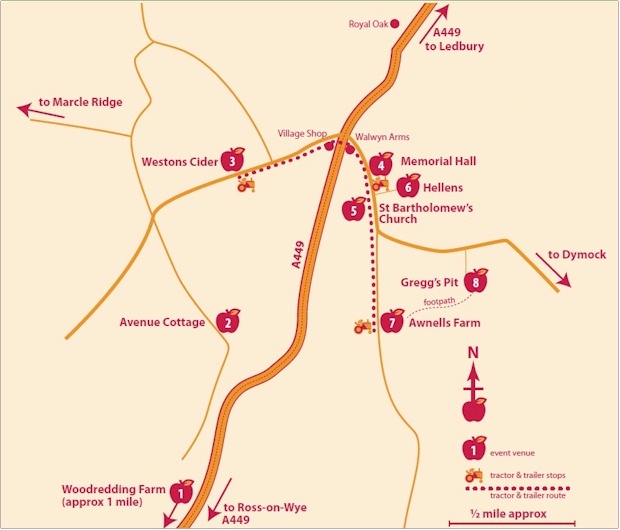 Click on the numbers to go to the venue details (This may not work on small screens).
The venues are
6. Hellens
7. Awnells Farm
8. Gregg's Pit
Other locations open for business over the weekend
Much Marcle Village Shop HR8 2LX Sat 7.30am to 6pm, Sun 8.45am to 12.30pm
Pork and Two Veg Farm Shop, Woolhope HR1 4QL Sat 10am to 6pm, Sun 10am to 2pm (off the map)
The Nest at Little Verzons HR8 2PZ Sat only, 9am to 5pm (off the map)
Google Map of Big Apple Harvestime
Toilets 
There are full toilet facilities, including accessible toilets, at Westons, Much Marcle Memorial Hall, Hellens and Awnells Farm.
All other venues have toilet facilities available – including a long drop composting toilet at Avenue Cottage "with the finest view in Herefordshire"!
Getting Here
Much Marcle lies on the A449 Ledbury to Ross on Wye road.
We are just 15 minutes from the M50 motorway, 2.5 hours from London and 1.25 hours from South Wales and the West Midlands.
Getting around
Most venues are within walking distance of each other – eg the walk from Hellens to Westons Cider or to Awnells Farm takes around 20 to 30 minutes. A tractor and trailer service will operate between Westons Cider, Much Marcle Memorial Hall (for Hellens and St Bartholomews Church) and Awnells Farm (for Gregg's Pit).  Woodredding Farm and Avenue Cottage are slightly further away – the walk from Westons to Woodredding Farm via the 'top' road past Avenue Cottage takes about an hour. (Please note that access to Woodredding Farm from the top road is only available on foot or by bicycle and not by car).
Car Parking 
Westons has a large car park and there is a large field at Hellens for parking. Parking at other venues is more limited. Roadside parking only at Avenue Cottage and St Bartholomew's Church. Gregg's Pit also has parking in a large field, but the access lane is narrow – so be prepared to reverse if necessary. Think about parking at Hellens or Westons and then walk to the other venues, or use the tractor and trailer service?
Dogs
Many venues are preparing fruit for processing or food so please bear in mind that dogs may not be allowed in certain areas such as orchards, where fruit may be on the ground awaiting collection, or The Great Barn at Hellens where apple tastings are served.  Our walks pass through fields where there may be farm animals so please don't bring them with you on these unless specifically permitted. If in doubt, please ask at the venues.
Public Transport
Ledbury has a railway station served by London Midland and GWR with direct trains from Birmingham (via Worcester), Hereford and London (via the attractive 'Cotswold Line' from Paddington).
DRM Buses run between Ledbury and Hereford with the closest stop at Pool End.  Details on http://www.drmbus.com/timetables.html
Using SatNav?
Postcodes are provided for the main locations but please be aware that rural postcode areas can be quite large and you could be taken to a point some distance from the actual event – eg HR8 2LY is the postcode for a large area of Much Marcle – look out for the signs on the roadside when you near your destination
Local Information
Much Marcle Website
Pixley and District Website
Putley Website
Woolhope Website
The Cider Route
Visit Ledbury
Accommodation
Look on the Accommodation page for details of accommodation websites and local camping and caravan sites.