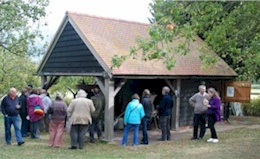 Much Marcle, HR8 2NL (Grid ref 662323)
10.30am – 6pm
Experience Artisan Cider & Perry making in a traditional orchard.
Meet the makers, their trees and fruit, watch the pressing, taste and buy sparkling/draught cider and perry.
Ploughman's lunches by Truffles Delicatessen. 
No dogs please.
There is a footpath between Gregg's Pit and  Awnells Farm – rough ground so wear appropriate footwear.  It takes approximately 10 – 15 minutes to walk to Awnells.
Special events
Saturday 8th October
10.30am to 5pm. Orchard Printmaking with artist/printmaker Anneliese Appleby. Have a go printing a card with images of apples and pears. Suitable for children from 3+yrs. No experience required.
12.30pm: Leominster Morris
Sunday 9th October
11.30am. Birds, Bugs & Plasticine Grubs. Guided walk with PhD student Charlotte Selvey, who will share research methods she has used to explore potential natural pest control services in orchards.
3.30pm Perry Pears: Walk, Talk & Taste. Guided walk with James Marsden to learn about specific named varieties and taste the finished products made from the same varieties in 2015.
Find out more on the Gregg's Pit website.
Car parking in field

(narrow lane – take care)