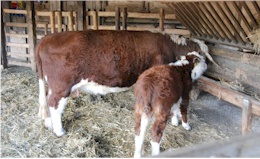 Much Marcle, HR8 2NW (Grid ref 658319)
11am – 5pm
Guided walks through the orchards.
Meet the traditional Hereford cattle. Rare Breeds Survival Trust.
Horse-drawn Travelling Cider Press and Gloucestershire Ox Wagon once used for hauling cider fruit and perry pears.
Spinning demonstrations.
Exhibiting artists including Araminta Fogden, wildlife painter, photographer Hollie Crawshaw and sculptor Andrew Roach.
Donations welcome
More about Awnells Farm on the Countryside Restoration Trust website.
Car parking, one 'Portaloo'